Send Inquiry
Gungnir Industry supply: tungsten carbide buttons, carbide inserts, DTH buttons, DTH drill bits buttons, tungsten carbide tips, S buttons, WC buttons, hardmetel buttons, buttons bits, waterwell drilling buttons, rock drilling bits buttons...
About Us
The importance of top grade tools, equipment and spare parts have consistently grown in past few decades with the tremendous growth of industrial sector across the globe. To satisfy such global demands, we, Gungnir Industry Ltd. are bringing highly durable and innovation industrial tools and spare parts for our customers. Being a quality focused Manufacturer and Exporter, we produce our offered Tungsten Carbide Buttons for DTH Drill Bits, Carbide Rods, Tungsten Carbide Blades Carbide Plates, Carbide Seal Ring, Carbide Bearing Holder, etc, in accordance with the standards set in the industrial norms. Finest quality metals and other raw materials are incorporated in its fabrication process.

Most Popular Product
Carbide Button Bits for Construction are used as indispensable components of various cutting tools used for precise cutting of iron, stainless steel and non ferrous metals. These are also used during road construction works. Wear and rust proof design, polished grinding surface, ergonomic design and cutting edge casting processing method are the key attributes of these carbide bits.
Widely used for masonry drilling work, the Carbide Button for DTH Drill Bits is preferred for its long lasting quality, exceptional compression resistance properties, long working life and ergonomic design. Featured with parabolic, conical or spherical type head, this carbide product is completely wear proof. It can be obtained with grinding, tumbling and plain surface finishing options.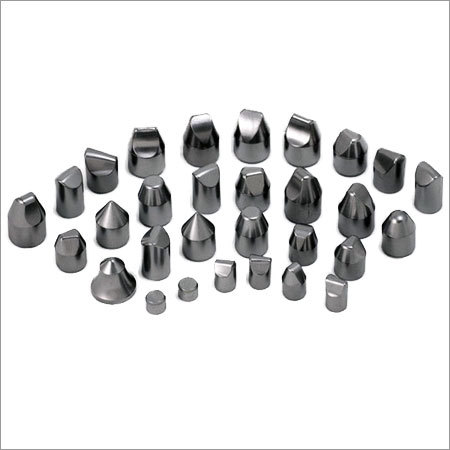 Carbide Button For Oilfield is an essential power tooling component which is totally rust and wear protected. Easy to install, this carbide accessory possesses high tensile strength and its chemical properties remain unaffected even after its repeated usage. Easy to maintain and handle, this metal button has precise diameter and uniform density.

Our entire range is designed by our talented team of professionals and they constantly try to improve our industrial products to provide absolute gratification to our patrons. Further, our product's operational efficiency, reliability and structural stability have made these a highly demanded choice in the market. In addition to this, our industrial products are also preferred over other alternatives because of their:-
Rust and corrosion proof composition.
Consistent dimensional and design accuracy.
Premium customization options
Tensile strength and impact tolerance

Our Diligent Workforce
Our zealous team of 125 employees has consistently come up with new ideas and innovative designs for our industrial products. They strive to meet the high expectations of our patrons by continuously improving the overall quality of our array. To ensure excellent performance, we provide regular training to them, they are educated about the technological advancements and production techniques. This helps them in enhancing their work efficiency, skill level and expertise of the vertical. Further, we have entrusted them with the responsibility to create and sustain healthy relationships with our clients on the behalf of our company. By making such comfortable relations with our patrons, they try to understand their demands properly and modify our range in accordance to the same.
Our Infrastructural Base
To ensure an efficient functioning and achievement of our organizational goals we have established a spacious infrastructural base. The facility is equipped with a hi-tech machinery set up and top quality tools to ensure a flawless production and packaging of our wide industrial range. Further, this isolated unit is segregated in different functional sub-units on the basis of their distinct duties and responsibilities, some of the essential sub-units are:-
Production Facility:-

In this facility, our employees strive to create an absolutely defect free and premium quality range of industrial tools for our clientele.

Quality control Unit:-

After going through the entire production process, the finished range is tested strictly in this unit to ensure its robust build and polished finish.

Warehousing Facility:-

We have established this unit with an aim to store our finished range in a safe and organized space.

Marketing Department:-

This department constantly helps us in implementing new attractive policies and also concentrates on improving the market position of our brand.
Latest Trade Offers
About Carbide Buttons for DTH Drill Bits:- With superiorities of high impact toughness and thermal fatigue resistance, it's not an exaggeration to ..
Our organization is engaged in supplying of Tungsten Carbide Mining Tips in Shenzhen, Guangdong, China. Our tungsten carbide mining tips are widely us..